February 10, 2011: ASV 2011 released.
With the release of ASV 2011, free ASR offer to ASV+UAE license purchase is not available anymore.

January 1, 2010: Happy new year!
We wish you a happy, healthy and wealthy 2010!

January 1, 2009: Happy new year!
We wish you a happy, healthy and wealthy 2009!

Current ASR 5 does not support AS3. We have plans to release a new version but only after major ASV and UAE releases.

August 6, 2007: ASR 5.28 released!
This version updates the decompiler engine to the latest. License owners can now download the new version at their assigned download URLs.

October 20, 2005: ASR 5.0 released!
Yes, we have skipped versions 3 and 4, in order to bring the version in line with our other software. With version 5, ASR now has Flash 8 support.

To get the upgrade, if you have a license for current versions of UAE and ASV, please email us at asr5upg@buraks.com.

Please, write from your registered address, or provide your order ID as proof of identity. Also you must write from a NON-FREE email address, as we cannot accept free email addresses for registration.

We will get back to you as soon as we can, but please allow us 48 hours. In most of the cases, you'll receive a response in 24 hours. If you don't hear from us in 24 hours, feel free to email again, sometimes mails do get lost.

Thank you.

June 27, 2005: ASR 2.08 released!
This version updates the decompiler engine to the latest and adds 'Actionscript Import Options' dialog. (Current customers can now download the update at their current download URL).

November 1, 2004: Version 2.03 released!
This version updates the decompiler engine to the latest and adds batch options.

November 25, 2003: Version 2.0 released!
This version adds support for Flash MX 2004 / SWF version 7.

April 12, 2003: ASR released!
We have released ASR today as gift to our customers who have purchased both of our products (Action Script Viewer and URL Action Editor). It's not sold separately, but you can think it the other way: ASR costs 100 99.90 USD and you get both ASV and UAE free! [November 6, 2006 update: Discounted price for ASV and UAE is now 100 USD]


What is ASR?

Action Script Replacer is a Win32 utility application that lets you replace actionscripts in Flash movies (SWF files).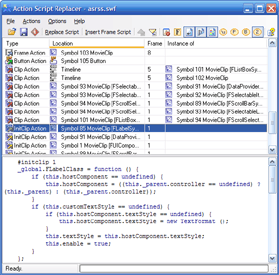 With ASR you can;
See all the scripts in a SWF file. (SWF version 8 and below, Flash 8, Flash MX 2004, MX, 5, 4, 3 generated SWF files officially supported).
Replace any script with another compatible script that resides in another SWF file (with batch replace option).
Insert/Append a frame actionscript to any frame on any timeline (with batch insert option).
Append a frame to any timeline.
Change the order of InitClip actions.
Other highlights are:
You can see and modify simple movie information (like frame rate, background color etc.).
You can view the scripts as P-code (the bytecode source) or as __bytecode__ functions.
You can display class scripts as AS1 or AS2.
Shares the latest decompiler engine used by Action Script Viewer.
You can open SWF files embedded in projectors, ZIP files and other EXE files.
To avoid any misunderstandings, with ASR;
You cannot delete actionscripts (but you can replace a script with an empty one).
You cannot add a button or movieclip script/clip actions. (You can modify only existing scripts by replacing them and you can add scripts to frames only).
You cannot save a SWF back into an EXE, if opened from there. (You can only save as the modified SWF as a standalone SWF file).



Documentation

We don't have a demo version. But by reading the help file for ASR, you can get more information. You can also write to us at asr@buraks.com about anything related to ASR.

Download ASR 5 Help file asr5.chm (~327 KB) now.


ASR 1.02 French Help file asr10_fr.chm (~160 kb).
(Translation by Benjy (from New Dimension FR). Also note that the help file contents are nearly identical for versions 1.02 and 1.03 (Latest 1.x version), the only change is the updated decompiler engine...)



Localizations

Although we provide no support for localizations, Benjy (from New Dimension FR) provided us French localizations for ASR. (Thanks Benjy!) We would also like to thank to Maciej Maliborski who provided the Polish localization. Download the appropriate localization file and extract the contents to the folder you have ASRxx.EXE. If your regional settings are also French or Polish, you should be able to run ASR localized. (There might be parts not localized and menu items with extra text displayed).



Support

Support is provided by email to your registered email address. Our support email is support@buraks.com (You should get an automatic confirmation when you write to this address). Our support board is located at FlashDecompiler.com.

You'll get a response in at most 24 hours, most of the time in 2 hours!



How to Purchase?

ASR is not available for purchase separately.

Currently, the offer below is not available. Thank you.

If you purchase both of our products ASV and UAE for the discounted price of 130 USD, you get ASR free.

You can order ASV securely online here, when asked also add one copy of UAE and not only you'll get a discount, you'll get ASR free!

(You can think 'ASR is for US$130 and you get ASV and UAE for free').

If you have purchased ASV and UAE (even not both at the same time, but have current versions), please contact us at support@buraks.com to receive instructions on how to get your copy of ASR. Also if you have ASV or UAE and purchase the other, you'll qualify for free ASR!

Special note on conditions of use
You can only use ASR on SWF files that you have the right to use ASR on. Burak KALAYCI or Manitu Group will not be responsible for your actions.